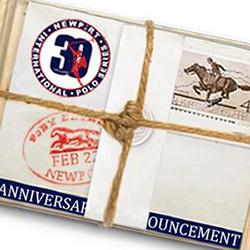 2021 marks the 30th anniversary season of the Newport International Polo Series, scheduled to commence on Opening Day, June 5th. After a proven game plan during the pandemic year that won State approval and audience support, momentum for the approaching milestone season is bullish, to celebrate three decades of polo re-born in its American birthplace. Special details will be posted monthly as our jubilee plans unfold. Subscribe to receive the latest blog post in our monthly eMagazine, delivered by email to your inbox.
May 26, 2021
Tailgating at polo extends to the sport's early beginnings in America, where eager crowds would station their horse-drawn carriages as viewing platforms to see titans clash in the newly imported game. Newport Polo fans eagerly adopted the tradition when the Polo Series brought international polo competition back to its American birthplace. While the audience slowly grew in number and enthusiasm, so too did field-side displays. Elaborate menus, finessed décor, and flamboyant attire became the hallmark as word of the renowned scene continued to spread.
Yankee Magazine was the first to take notice when in 2013, Newport Polo fans earned the distinction of Best Tailgating in Rhode Island. Then came the Best in Show contest to reward the standouts each week for raising the bar on the fun that can be had watching a polo match.
Stella Artois returns this season for a special 30th anniversary edition of the Best in Show to paint the polo grounds red (and white). Each week, judges scout the field, looking for epic sideline extravaganzas in Newport's home team colors, red & white, to award a Jumbotron moment of fame and Stella Artois picnic umbrella. Whether you are in the Pavilion, Tailgates, Chalets, or on the Lawn, a festive fête with red & white details will put you in the running for the weekly prize and a feature on Newport Polo's Facebook fan page.
Ready your Saturday spreads! Opening Day is June 5th for Switzerland's first challenge to USA. The action continues every Saturday through September as teams from around the world and major U.S. cities challenge the home team, USA / Newport. See Events/Tickets for the full schedule.
Photos by Newport Polo and Cocoa & Co.
April 30, 2021
...Pony Expres is galloping in with the news that polo fans have long-awaited - Grandstand & Lawn Seating are on sale now!
You will once again be able to tote your picnic, blanket, and chairs to the polo grounds to enjoy an afternoon at polo without advanced reservations. Kids age 15 and under are admitted for free to Lawn & Grandstand seating, continuing the long-held tradition of making the Polo Series a family-friendly event.
Lawn & Grandstand Tickets are available online now and will be sold at the Entry Gates on Game Day for all matches. Those who purchase tickets in advance online will find a faster admission process once they reach the gates thanks to new scanners and improved Wi-Fi being deployed for Opening Day. Online ticket purchases also have the option to add Rain Ticket Insurance.
We thank the State and Town of Portsmouth for their leadership, which led to the safe reopening of Newport Polo as the first spectator sport to resume in RI and seeing our community through to this final phase of reopening. Follow Newport Polo on Facebook, Instagram, and Twitter, and subscribe to our eMagazine to receive the alert when Lawn & Grandstand Tickets become available online.
Photo provided by Cocoa & Co
March 25, 2021
The Newport Polo experience would not be what it is, without the presence of our beloved, loyal fans. For the players, there is no greater thrill than to behold the cheering support of our enthusiastic audience, evoking a range of emotions from stage fright to Rockstardom to humility, at the sound of their names and ponies' names extolled, autograph requests, high fives and podium honors, especially on the rare day when weather is less than perfect, yet the grills are smoking and the corks are popping. So great is the energy and dependability, that it is our stadium. For that honor and privilege, we put our best foot forward every Saturday, and this year, our season pass holders will receive their own, special badge of honor.
Those who read the January blog post will recall that visiting teams this year will receive prizes designed after Olympic medals (scroll down for the original post). That theme will carry through to the 2021 season passes too, to distinguish our most loyal fans. The passes are in development now, with the final design to be unveiled on Opening Day, as they are distributed. They will feature our 30th anniversary insignia, and pay tribute to all 35 countries to participate in the Polo Series, plus the United States.
Polo, considered one of the oldest team sports in the world, began its intercontinental spread more than half a century before the return of the Olympics, gaining its early American footing 20 years before the first Olympic Games of the modern era were played in Athens in 1896. Polo was featured in four of the games between 1900 and 1936 before WWII took a heavy toll on polo world-wide.
In the shared spirit of international sporting fraternity, what better way to mark the Newport International Polo Series 30th anniversary during the 32nd Olympiad than with a symbol of unity and international goodwill through sport, for the fans who have been with us for these 30 trips around the sun, and the Earth.
February 12, 2021
In 2015, as Food Trucks were on the rise across the nation, a few local vendors rolled onto the International Polo Grounds for the first time, bringing a new selection of premium offerings within steps of polo fans as they enjoyed the Saturday matches. Through the intervening years, the fleet of unique and gourmet mobile culinarians has reached a crescendo, in time for the Polo Series 30th anniversary. Our summer-long celebration would not be complete without a banquet of the most encore-worthy vendors to date, covering every delicious hankering that polo fans could hope for, in residence every Saturday.
Travelers to New England often have a search for the much-delighted lobster roll at the top of their itinerary. Polo Fans will have to look no further than the Davitt Pavilion Patio where The Shuck Truck, powered by Greenwich Bay Oyster Bar, will offer its overflowing colossal lobster rolls, alongside native raw oysters and littlenecks, and colossal shrimp cocktail to indulge in a feast fit for Poseidon.
Authentic Neapolitan pizza will emerge from the brick ovens of A Mano Pizza + Gelato. These eye-catching trucks quickly became a favorite around Newport (even Jay Leno picked up his own pie) for turning the freshest organic ingredients imported from Italy into a handmade delicacy.
For a small cart, Wally's Hot Dog Cart packs a satisfying punch, serving the Rhode Island original 'Saugy' dog in all its tasty guises, from traditional top

pings to deluxe specialties, earning the rank of polo fan favorite for the past two seasons! With the chef's Goldendoodle as the mascot, and a combination of high-quality beef and pork on a bun, what's not to love?

Plans are in the works for charcuterie boards and tailgate styling specialists, as well as specialty menus offered in the Pavilion for during & après polo, to be announced soon by Pony Express!
Lastly, two mobile vendors serving cool and refreshing sweets enjoyed by the young and young at heart round out our 2021 lineup.
There's nothing like the taste of homemade, and according to the reviews, no one around does it better than Chelsea's Creamery. Over 30 homemade flavors from traditional to whimsical are churned out locally in Warren,

RI, and hit the road in a frosty white mobile trailer. Enjoy a cone, cup, or frappe.
Visit our Hospitality & Amenities page for menus, links to find where each vendor is serving now, and more. For specific details about the players, concessions & amenities, plus venue information and other details for each match, subscribe to the Game Day Digest, delivered Saturdays, June - Sept (sign up). Stay current with all 2021 season announcements, latest news & event invitations, and more by subscription to our monthly Emagazine (sign up). Both subscriptions are private and spam-free.
January 28, 2021
Coinciding with the summer Games (another pandemic silver lining) and influenced by the Olympic experience, we are excited to announce that a commemorative medal is being minted, to be awarded this year in the Veuve Clicquot Trophy Presentation, our closing celebration after each polo match. The silver medallion will feature our 30th Anniversary logo and Newport Polo's historic competition venue, while the ribbon will bear the flags of all 36 nations to have participated as of this year.
An olive wreath was the prize for the winner at the Ancient Olympic Games, from branches off the wild-olive trees that grew at Olympia, intertwined to form a circle or a horse-shoe. When the modern Olympic Games began in 1896, silver medals started to be given to olympian champions, the first being James B. Connolly of Massachusetts! Runners-up received laurel branches, cups and trophies. Eventually, medals distinguished by gold, silver, and bronze for the first three places evolved at the 1904 Summer Olympics in St. Louis, Missouri. And a neck ribbon took the place of pinning at the Rome Olympiad of 1960, which remains the current tradition. Additionally, the names of all medal winners are inscribed onto a wall at host stadiums.
Newport Polo's traditions date back to its inaugural season, with perpetual Paul Revere Liberty Bowls inaugurated for each international rivalry to share the spoils of "champagne in victory and in defeat" [Napolean], engraved with the names of winners over the years, and unique silver prizes presented to all visiting teams to commemorate each season. Prizes have ranged from statues, trophy cups and platters, knives, goblets, and all manner of pride, prestige and appreciation, suitable for the trophy shelf.
The vision for the Newport International Polo Series was largely influenced by the Olympic spirit and international competition experiences of founder Dan Keating, who competed on the US Mens Luge Team.
We hope to present the first of the 30th Anniversary medals on Opening Day, June 5th to the Swiss Polo Team making its Polo Series debut in the Newport International Polo Series XXX!
Photo provided by Matthew J Atanian
December 12, 2020
With the 2021 schedule finalized early, an accelerated schedule has been announced for the Trigentennial Box Office opening. Polo fans intending to make reservations are urged to take note of the new timeline for the 2021 Box Office:
JAN 1: Pavilion Table selections begin for Patrons & Insiders

JAN 14: 8AM: Cutoff to purchase a Season Pass for Priority Access

JAN 15-31: Priority Access for Passholders

FEB 1: Box Office Opens to the Public

JUN 5: Newport International Polo Series Opening Day
Thanks to our 2021 Season Schedule being finalized well ahead of the normal timeline, due to postponements from 2020, we are ready to launch the Pearl Jubilee with the start of the new year. After successfully completing a COVID-safe 2020 season with all 17 matches, our optimism has been buoyed by the progress of vaccine developments and distribution underway.
We invite you to mark your calendars to reserve your seats to join the action. Lastly, those interested in hosting a Polo Party will have the most availability to select from if they Contact Us by JAN 5 to initiate prior to Priority Access.
We look forward to seeing you at the Newport International Polo Series XXX!
Photo provided by Cocoa & Co
November 20, 2020
Work has commenced on a website overhaul. The key feature of the site development is a move to the latest ticketing platform, with a new integrated checkout process for seamless online ticket purchasing, to also extend to polo lessons & related services, and Pro Shop sales. Maintaining the checkout process on one platform from start to finish is expected to improve site speeds and up-to-the-second ticket availability. Customers can also expect new features making it easier to access and distribute electronic tickets. Along with the upgraded platform, new ticket scanners will be deployed at the polo grounds to speed up entry on game day. Expect more updates on the website upgrade as work progresses. During the new site construction, the current website is still fully operational.