The Newport International Polo Series is thrilled to roll out the first cadre of 2022 sponsors that will help launch its fourth decade. These industry leaders recognize the value of the polo experience for our community, and are investing in the quality of life in our state and region, to ensure summer-long exciting sports entertainment and fun outdoor social engagement for families & friends, neighbors & colleagues, brides, alumni and so many other connections.
Newport Polo Nation enjoys the benefits of these strategic partnerships to elevate the Saturday polo experience, supporting continual facility improvements, seating enhancements, technological upgrades, new entertainment opportunities, an extensive roster of rivals, and world-class hospitality for polo fans and visiting teams. Additional sponsor introductions and acknowledgements are planned for the coming months.
"There is no doubt that without the support of our Sponsors over the past 30 years, the Polo Series would not be as extensive as it is today, and may not have endured the challenges of a startup and unforeseen setbacks along the way," explains Dan Keating, Founder and President. "And it is not just at Polo where these businesses make a measurable difference. They are the apex of their industry, providing the best, most competitive products, services, innovations and resources that you'll find, and it is an honor to represent them."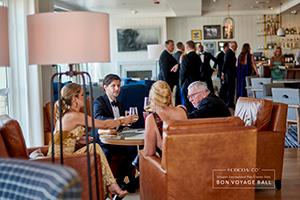 The Brenton Hotel Jumbotron experience will once again take fans upclose to the polo action on the field, with live progress, instant replay, interviews and sideline reports on the polo world's first 'Jumbotron' entertainment videowall scoreboard, by an experienced professional film production team that creates multi-camera, live action video content that has become an exciting addition to the Newport Polo experience for a 5th season. And off the field, Newport's newest waterfront destination, Brenton Hotel will continue to provide the finest hospitality and amenities for polo guests, at the living room and social hub of Newport, where we will kickoff epic weekends with team receptions on the eve of the action. Event details coming in the next editions of our eMagazine (subscribe).
Welcoming one of the largest global medical technology companies to our stable, we will christen BD Field this season with all new perimeter boards to contain the next generation of international rivalries and fierce US city grudge matches, keeping pace as a world-class venue for highly-competitive polo. Construction is already underway, developing the latest design in sideboard stability to keep the ball in play for full-speed action. A christening ceremony will mark the first time in its history that the Polo Series exhibition field will bear an official name. BD is also contributing to the success of our 21st annual charity fundraiser, the Kia Ora Cosmic Ball, Presented by BD, supporting the RI charities and mission of the Jeffrey Osborne Foundation. BD's history in Rhode Island is nearly as long as that of America's First Polo Club, extending over 100 years from the Davol Rubber Company. Today, BD maintains the headquarters and design center for its Surgery Business Unit in Warwick, RI with a team of more than 300 employees, advancing the world of health with improvements in medical discovery, diagnostics and the delivery of care here and around the world.
An Exotics Village of premium horsepower will supercharge the sidelines during four premiere dates this season for polo fans to experience, before a victory lap around the field by the latest exotic and ultra-luxury models from Bentley Boston, Lamborghini Boston and Rolls-Royce Motor Cars New England, the official factory authorized dealerships in New England. Mark your calendars for Opening Day, June 4 when Bentley Boston hosts USA vs. Colombia. On July 23, Lamborghini Boston welcomes the rematch of USA vs. Italy. On August 13, Rolls-Royce Motor Cars of New England hosts Newport vs. Palm Beach. And on September 10, prepare for the high stakes Bentley vs. Rolls-Royce Pro-Am, when polo and automotive fans will experience the ultimate English challenge. The largest selection of high-performance luxury vehicles is available to see all in one place at 533 Boston Post Road, Route 20 in Wayland, MA.
Since 2007, Vanderbilt International Properties has been our chief of hospitality, extending Newport's legendary welcome by hosting international polo teams each season. No one knows Newport better, and today as an Official Lodging Partner, Match Presenter and Sponsor of the Jeffrey Osborne Head Table at the Kia Ora Cosmic Ball, Presented by BD, Vanderbilt International Properties Ltd creates the pinnacle of hospitality on and off the field. Receiving the intrepid players from abroad, VIP will be among the first to welcome the visiting teams, providing first-class accommodations in the heart of Newport. The boutique luxury and waterfront real estate firm has built an impressive portfolio over the past 20 years representing some of the most sought-after residences and developments in Rhode Island and around the world. On the sidelines, VIP welcomes Newport's newest residents to the Newport Polo tradition, while setting the standard for client relationships, tailgate decorating and geniality.
Once settled in, a night on the town naturally moores at the Clarke Cooke House for an unparalleled, quintessential Newport experience. No international weekend is complete without a team dinner and victory celebrations at the waterfront's Clarke Cooke House, renowned for its innovative cuisine, legendary as the heartbeat of Newport. Newport Polo's restaurant of the year for the past 11 years has been hosts to royalty and yachting stars, captains of industry and charming scalawags, to occasions whimsical and outrageous - everyone feels special. The polo teams, well...they can check nearly every category. A Newport stopover is not complete without the Cooke House's great food, professional service, sophisticated environment and unique charm.
Outfitting the home team and Newport Polo's staff with the latest performance fabric technology, U.S. Polo Assn. is kitting out America's oldest polo club, as well as America's official USA team that will compete in the XII FIP World Polo Championship this fall. Ranked the 5th largest sports licensor in License Global magazine's 2020 list of "Top 150 Global Licensors," U.S. Polo Assn. is named alongside such iconic sports brands as the National Football League, National Basketball Association and Major League Baseball. Inspired by the authentic connection to the sport of polo in America and around the world, U.S. Polo Assn.'s apparel, accessories, footwear and more can be found across 194 countries worldwide and Newport Polo's field-side Pro Shop.

Like the Beatles in a sea of adoring fans at Shea Stadium, autographing polo balls after the match is the cherry on top for the players. Their celebrity status starts upon arrival when, for the 14th season, international teams receive VIP ground transportation for airport arrivals & departures and special excursions from ROCKSTAR Limo, the most trusted and reliable chauffeured transportation available for our precious cargo. Whether we need a quiet sedan for a red-eye, a team SUV for mallet bags, a stretch limo for Waterfire, or the Gronk Bus for Audrain's Tour d'Elegance (kidding), ROCKSTAR Limo provides a flawless experience with vehicles to match every style, and service beyond expectations, from Boston, Providence, Newport, and everywhere in between. Fuel Your Inner ROCKSTAR.
Being T minus 99 days, excitement is building for the launch of the 2022 season, with additional sponsor introductions and acknowledgements in the coming months! For more information about our Sponsors, visit the Sponsor page.
"Our sponsors have been with us since the beginning," explains Keating. "These strategic partnerships include global megabrands, Fortune 500 companies, the most respected names in sports/entertainment marketing, and the best of Newport County, helping deliver a world-class polo experience that has wide-ranging community benefit beyond the exhibition matches."
About Newport Polo: Newport Polo is the home of America's First Polo Club, founded in 1876, a charter member of the United States Polo Association. Newport Polo offers year-round polo club member services and polo instruction, and hosts the Newport International Polo Series public exhibition polo matches every June through September, now in its fourth decade. View our 2022 Schedule of Events and our 21st annual charity gala, the Kia Ora Cosmic Ball, Presented by BD.