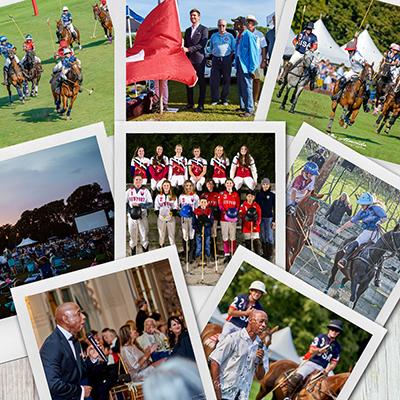 It felt like spring in the Alps as opening day of the Newport International Polo Series 30th Anniversary season approached. The summer Olympics underscored our anticipation for the return of international challengers to mark the Polo Series pearl jubilee, and Switzerland was on deck for the season openerer. Celebretatory details for the 30th anniversary were rolled out throughout the year, from commemorative players' gifts and season passes to new festivities and the return of favorite traditions. Every opportunity was taken to reflect on the past 30 years and restore our favorite traditions and celebrations of polo in Newport.
2021 Fundraising Benchmarks
2021 propelled Newport Polo's charitable efforts to new heights in a triumphant recovery from the pandemic year, providing resusitated community support, extending well beyond Saturdays at the field.
The 27th edition of the official season program for the Newport International Polo Series, produced in partnership with the Rotary Club of Newport and Newport This Week, saw a groundswell of community support. Since its inception, the publication has become a vital source of funding for the Rotary Club of Newport which receives 100% of the revenue generated by ad sales. This year, over 50 local businesses showed their support with an ad, helping to fund the Rotary's college scholarship program and many charitable efforts.
A star-studded charity gala, one of very few to take place in 2021, reached platinum status for the comeback tour of the annual International Polo Charity Ball. A pandemic-induced postponement from 2020 couldn't dampen the spirits of those looking forward to the Caribbean-themed Bon Voyage Ball as most of the sold-out guest list held onto their tickets for more than a year. Their patience was rewarded. Guests of honor, the Dominican Republic Polo Team proved charming company while a red carpet entrance included photos and glad-handing with Grammy-nominated R&B Legend, Jeffrey Osborne. Osborne dazzled party-goers with an impromptu performance before a whirlwind live auction set a new fundraising record. Nearly $85,000 was contributed to the beneficiary, the Jeffrey Osborne Foundation, whose primary recipients provide food, shelter, and a safe haven for RI families and children in need, and keep music and the arts in our public school systems.
The return of the 5th annual All Charity Day drew over 1K supporters for 14 local non-profits to watch an exciting 6-chukker match on a pleasant Sunday afternoon. Fundraising from ticket sales, raffles, and other activities on game day earned over $18K, providing dire funding support after pandemic conditions hindered efforts in the past year. Money raised went to wide-ranging causes from arts and education, child and family well-fare, animal rescue, health, and veteran assistance.
2021 Milestones
Switzerland debuts as 35th nation in the Polo Series.
Turkish Airlines Grand Prize trip for 4 awarded.
Goslings Players Hour inaugurated with the international teams.
Penalty Calls Challenged by Instant Replay.
Monthly Herb Chambers Exotics Villages showcased newest rare luxury autos.
Deployed latest scanning technology & upgraded WiFi at entry gates.
Hosted The Rhode Show live broadcast with Jeffrey Osborne.
Modern Luxury Polo Lounge turned 10, gets red anniversary makeover.
Awarded Tag Huer watch in Anniversary Cover Sweepstakes.
Published Time Machine Anthology to the Inaugural Season.
Anthem encore by Jeffrey Osborne during USA vs. Dominican Republic.
Other Accomplishments
Awarded 16 coveted Stella Artois prizes in the anniversary Best in Show contest.
Minted 30th Anniversary Medallions for Podium Prizes and Season Passes.
Hosted 8 Après Polo Events, including first Celebrity Chef Dinner.
Achieved overnight success with Frozen Cocktails at the Patio Bar.
Raffled 16 weekly Door Prizes from Veuve Clicquot, Whispering Angel, and others.
Rolled out anniversary collection in the Pro Shop.
Record turnout for newportFILM's 11th screening at the polo grounds, Tom Petty: Somewhere You Feel Free.
Welcomed unique autos for 3 Audrain Automobile Museum Cars & Coffee events.
Opened 2nd Fan Poll to choose Polo Series next challengers.
Engaged fans with 2 Photo Contests.
Hosted the 5th Battle of the Sexes, 12th Battle of the Ages, and 5th Pro-Am.
Polo Club Highlights
Organized 5 arena polo tournaments, including 3 regional United States Polo Association events, the Northeast Circuit Arena Amateur Cup, Northeast Circuit Arena Sportsmanship Cup, and Northeast Circuit Women's Arena Challenge.
Return to competition for official USPA High School Varsity & JV Teams, Brown University and Roger Williams University.
Newport Polo Founder & President first civilian to receive General George S. Patton Jr. Award.
Introduced 30 first-time players to the King of Games through Adult and Teen Intro Clinics, plus provided weekly polo instruction to over 170 polo students.
Graduated the 10th class of players from the annual summer Coaching League.
Upgraded drainage system for faster wet-weather recovery at Outdoor Arena.
Recognized Chris Fragomeni - Sportsmanship; Felipe Rojas - Most Improved Player; first-ever Rookie of the Year - Leslie Streuli at annual Club Awards.
2021 International Polo Sponsors
The Newport International Polo Series is proud to roll out its 2021 sponsors including Brenton Hotel, Davitt Inc., TD Bank, Turkish Airlines, Modern Luxury Boston, Herb Chambers Exotics, Vanderbilt International Properties, Hotel Viking, Veuve Clicquot, Polo House Privé, Clarke Cooke House, Stella Artois, U.S. Polo Assn., Goslings, ROCKSTAR Limo, McGrath Clambakes and Catering, Classical 95.9 WCRI, and promotional partners including Newport Helicopter Tours, The Cocktail Guru, Hannoush Jewelers, Newport Jaguar Tours, International Tennis Hall of Fame, Newport Mansions, Newport Music Festival, Island Surf and Sport, Northeast Equestrian Life, Newport Sport Fishing Charters, and Audrain Automobile Museum.
"Our sponsors have been with us since the beginning. Without their support, the Series would not be as extensive as it is," explains Dan Keating, Polo Series founder.