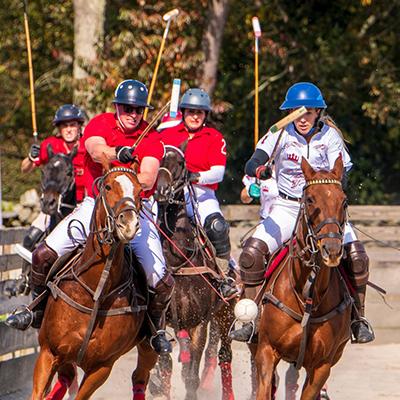 Newport Polo's annual Players Tournament brought out friendly but fierce competition as polo club members teamed up with advanced players from its polo training program to compete in the tournament, a highlight of the club's Awards Weekend. A beautiful bluebird day greeted the four teams entered in the annual event, held at Newport Polo's regulation-size outdoor arena at its private training facility in Portsmouth, RI. Aptly named, team Mane Attraction, made up of intercollegiate & interscholastic players from Newport's polo school, made a clean sweep of the contestants.
Throw-in began at Noon for Semi-Final game 1 as Synergy Solutions (Meg Stowe, Christine Bowden, and Minnie Keating) in white jerseys faced Blazing Saddles (Chris Fragomeni, Touba Ghadessi, and Luke Merrick) in red jerseys. Fragomeni wowed the spectators in his competition debut by scoring the first goal of the tournament for Blazing Saddles, but two penalty conversion points and two field goals put Synergy Solutions quickly in the lead. Synergy Solutions won two more goals in the second chukker to Blazing Saddles' one, for a 6-2 victory, to advance to the Championship round.
Semi-Final game 2 pitted green outfitted TD Bank (Amy Garrison, Peter Jenkins, Clark Curtis, and Dan Keating) against Mane Attraction (Lauren Bilsky, Katie Reed, and Mia Purdom) in purple jerseys. Garrison led a quick 1-2 punch for TD Bank along with a point by D. Keating, but Bilsky and Reed matched thier efforts for a 3-all tie. Both sides went 3 for 3 again in the second chukker, leading to a tie-breaking penalty shootout by 3 players from each side. Reed and Purdom made the goal, dead center from a distance of 25 yards, while Curtis was the only member of TD Bank to make the goal, giving Mane Attraction the second berth in the Championship.
Next up, the Consolation brought runners up Blazing Saddles and TD Bank to the arena to claim the bronze medal finish. Curtis and D. Keating led the scoring for TD Bank. The goals were evenly met by Fragomeni and Merrick on Blazing Saddles to end the first period in a 3-all tie. Jenkins came back hard for TD Bank scoring a two-point goal from outside the 25yard line. Merrick made up two points to close the gap. D. Keating cinched the win with two more goals for TD Bank.
Excitement grew as the all-women Championship got underway. Synergy Solutions got the momentum going as Stowe converted a 15yard penalty, followed by a field goal, to Reed's single point for Mane Attraction. Stowe came back with another goal before Synergy Solutions lost cohesion when Mane Attraction concentrated defense on their coach M. Keating to keep her out of the game. Bilsky earned a two-pointer, followed by two goals from Reed to secure the win, 5-3.
Prizes were awarded to the first place team before adjourning to the Clarke Cooke House for Newport Polo's annual Players Dinner and awards banquet where the club's 2019 achievement awards and recognitions were presented.
View the tournament photo album on Facebook. Photos by John Lincourt Photography.
About Newport Polo: Newport Polo is the home of the Westchester Polo Club, America's first polo club est. 1876, and founding member of the United States Polo Association, offering club member services for outdoor (grass) & arena polo, and polo instruction. The founding members, who hailed mostly from Westchester County, NY, established the club's summer headquarters and polo grounds in Newport, RI where its members annually convened for summer recreation. The original club in Newport remained active until 1929 and is credited for organizing the first international polo competition, the Westchester Cup. The Westchester Polo Club was revived in 1992 by President and delegate, Dan Keating. Colloquially know today as Newport Polo, the Club supports a vibrant polo training program continually introducing newcomers to the sport. It is home to the Brown University Polo Team and the winners of the 2017 National Men's Intercollegiate Championship, Roger Williams University. Newport Polo also hosts the Newport International Polo Series, a popular 18-week summer exhibition series.
Newport, Rhode Island: For more than 375 years, Newport has been welcoming visitors from near and far to its charming New England coastal harbor, earning its reputation as America's First Resort. Evolving from its origins for religious freedom to prominent colonial port to Gilded Age playground to today - a destination ripe with sport, culture, history, art, entertainment and scenic beauty, distinctive shops, renowned restaurants, diverse accommodations and world-class events, its past, present, and future make this international resort uniquely legendary.