October is Breast Cancer Awareness Month. Once again, WaterRower will be teaming up with Pull for a Cure for their annual fundraiser for breast cancer research.

Through the month of October, WaterRower will be putting efforts towards raising money for the cause with a little help from our friends -That's where you come in!

Want to help out? It's easy as 1, 2, 3…
For every workout posted*, WaterRower will donate $1 to the Pull for a Cure effort. All donations go directly to breast cancer research support provided by the American Cancer Society.
*Only 1 post per person per week

You can donate directly to the cause by heading to Pull for a Cure's fundraising page.
This winter, Lufthansa group flights will reach 225 destinations for convenient holiday travel across the globe. Travelers can reach new destinations, including the Marrakesh, cultural center of the newest polo series debut, Morocco, San Jose & Dallas (USA), Havana (Cuba), with new flights throughout Europe, Africa, and Asia.
Passengers departing from Boston's Logan International Airport will be carried in the newly commissioned Airbus A350 XWB (extra wide body). The plane, with a 293 passenger capacity, is the leading environmentally friendly long haul aircraft. Fuel efficiency has been increased by 25%, with a 25% decrease in emissions, and a 50% reduction in aircraft noise, while improving passenger room and comfort.
Plan your next trip at www.lufthansa.com.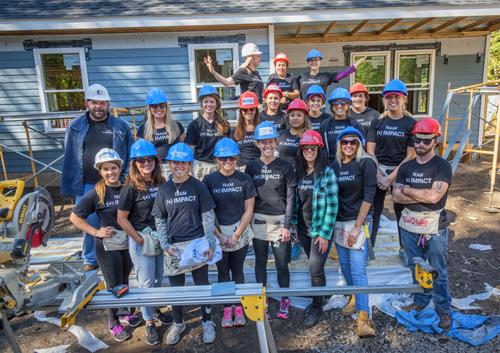 ALEX AND ANI's Team (+) Impact kick-started its autumn initiatives with strong local outreach. On Thursday, October 6th, its employees volunteered with Habitat for Humanity to build a home for a family in the Rhode Island community. They worked together to complete the paneling on one side of the house. Members of Team (+) Impact also worked to install beams in the interior of the house, helping to get this house one step closer to becoming a home.
Last month, Team (+) Impact worked with Save The Bay to keep our beautiful Narragansett Bay protected and clean. The team collected 112 lbs. of trash and picked up 1,500 cigarette butts.
The Hyatt Regency is proud to share that Stillwater Spa was chosen Best Spa Statewide, Rhode Island by Newport Wedding Magazine! Congratulations to our Director, Charlotte Michael and her team. Assistant Spa Manager Andrea Giacomozzi holds the award.
Sebastian and Isabella Artois left their mark by believing in a little beer from Belgium. Thanks to the risks they took, our 600-year brewing legacy lives on today. Watch the story unfold...
Recognized the world over by color alone, the yellow label of Veuve Clicquot acts as its veritable signature, an audacious symbol of innovation to wrap its beloved bottles. Read how the label was born.