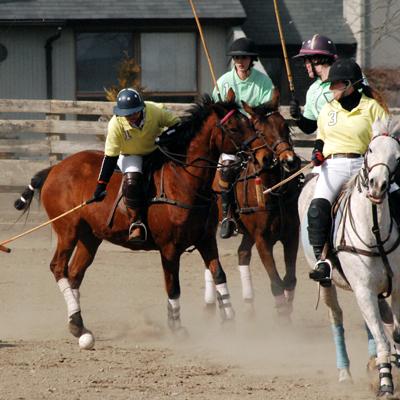 Early birds were aflutter on Saturday, March 26th for the first arena tournament of 2016, the inaugural Women's Invitational. The one-day tournament on the Easter holiday weekend drew three teams of veteran players from the region, competing in a round-robin tournament format to start the season with a crack.
Round 1: Courtney Seuss, Lauren Bilsky, and Margaux Buchannan wearing Green got the ball rolling against Laurel How, Jenny Elkus, and Stephanie Boyer in Yellow. Howe was the one to get the worm, giving Yellow the edge with the first goal of 2016. A quick succession of scoring by Buchannan, Bilsky, and Seuss put Green in the lead 3 goals. Elkus closed the gap, ending the first chukker 3-2 in favor of Green. Green continued to advance in the second chukker, with 2 goals by Bilsky, and 1 from Buchannan to sweep Round 1, 6-2.
Round 2: Keen to make up ground, Yellow stayed in the game, facing Riley Davis, Heather Boucher, and Minnie Keating in Orange. Keating put Orange into the lead with the first point, but Howe and Elkus were determined, and rallied with 3 goals for Yellow. Keating sprang into action with two more goals for Orange, ending the first chukker in a 3-all tie. Yellow finished Round 2 with a bright showing, adding 3 more goals thanks to Elkus and Boyer, while holding Orange at bay for a 6-3 win.
Round 3: The final round brought Green back to the arena with a compelling shot at winning the tournament if they could secure a victory over Orange. Orange opened the scoring with a 2-point penalty conversion by Keating, but Buchannan fought back with 2 points for Green to end the chukker in 2-2 tie. With silver prizes on the line, Buchannan left nothing to chance, converting a penalty, followed by a goal in regular play. Seuss finished the day with a final goal for Green, a 5-2 win over Orange, and overall win in the first Women's Invitational.
Tournament photos can be found on Newport Polo's Facebook fan page (photo credit: Ryan Fontaine).
Discover Polo! Watch it, Play it, Support it! Newport Polo is host of the Newport International Polo Series XXV and home of America's first polo club, offering public exhibition matches, polo club member services for grass & arena polo, and polo instruction. Est. in 1876, and founding member of the United States Polo Association. Sign Up to receive exclusive invitations, announcements, & Newport Polo's lifestyle magazine. For more information on learning to play, please contact agnes@nptpolo.com