With great excitement and anticipation, the Diamonds Are Forever auction committee presents a preview of some of this year's silent and live auction items.
The Silent Auction will open at 7pm during the cocktail & hors d'oeuvres reception and will close after dinner, at 10:30pm. The Live Auction will be presented by Sotheby's master auctioneer during the seated dinner from 8:30-9:30pm for the night's one-of-a-kind crown jewels!
Peruse the full details of all the exciting offerings below! (New listings added daily)
Proceeds from the auction will help continue to bring internationally acclaimed musicians to Newport to perform, to inspire, and to be inspired. In its over 50 years, the Newport Music Festival has hosted thousands of concerts played to 10s of thousands of Newport residents and visitor's alike. It has been a forum to introduce new artists and new works to an American audience, showcasing favored classics, and resurrecting forgotten masterpieces. In its modern era, the Newport Music Festival presents an annual concert series through the month of July, including three free community concerts, and special education initiatives for underserved youth, making this unique organization a jewel of the community. Learn more about the Newport Music Festival and make a donation at newportmusic.org.
LIVE AUCTION
"Private Charter"
Entertain up to 20 guests on Newport's newest luxury yacht charter, the 63' Heron Catamaran for a private sailing excursion with unsurpassed hospitality and all the amenities for a luxury day on the water. Includes captain, bartender, and server, unlimited rum punch, ice and drinking water (serviceware for your catering) for up to 4 hours.
Available dates: Monday through Thursday, August through September 2019
Donated by: Heron Luxury Charters
"Pats vs. Chiefs"
Witness one of the NFL's biggest matches of the coming season. The epic rematch between Tom Brady's NE Patriots and Patrick Mahomes' KC Chiefs take place on home turf in what could be Hall of Fame Quarterback Tom Brady's final season. Don't miss any endzone action from the 7th row!
Donated by: James and Alison Soldano
"5th Avenue Party"

Invite 30 friends to your very own exclusive 5th Avenue Party at the Yamaha Artists Services Recording and Performance Studio. Wow your guests with a performance by Grammy-nominated Baritone Trevor Neal and delight in delectable appetizers and wine, all which are included in this package. Start the party tonight with two Double Magnum Bottles of award-winning California vintners.
Dates to be arranged (minimal blackout dates)
Donated by Yamaha Artist Services
"South African Safari"
A five night stay for two people at Pel's Post, the newest lodge at South Africa's acclaimed luxury safari resort, The Outpost. Based in Kruger National Park, South Africa's best-known animal reserve and arguably the greatest national park on the planet, this oasis protects the globe's diversity of animal and plant life.
Donated by: Chick Leigh - The Outpost
"Day & Overnight at the Aquidneck Club"
You and three of your friends or family are invited to experience a day at The Aquidneck Club on Narragansett Bay. Enjoy a round on their championship "links-style" golf course, lunch, spa treatments, and tennis or a dip in their lovely pool. This package includes a round of golf for four, two spa treatments, tennis, dinner, and an overnight stay for four people.
Set on 300 acres on Narragansett Bay, this private sporting estate and golf club features a world-class 18 hole Scottish links golf course, a 41 slip marina, an elegant Clubhouse with club dining, fitness, and spa. The club also offers members an equestrian center with 19 stables with indoor and outdoor riding rings and a tennis club.
Donated by: Aquidneck Club
"Tom Brady Signed Jersey"
One of the greatest athletes of our time, Tom Brady will enter what could be his final season this fall. Take home a piece of NFL history with this signed game jersey of the Hall of Famer, four-time Superbowl MVP, and winningest quarterback in history with over 200 season wins. This jersey comes framed and complete with authentication records.
SILENT AUCTION
EXPERIENCES & ENTERTAINMENT
"Newsies"

Visit scenic & historic Theater by the Sea on Saturday, August 10 for an 8 pm Rhode Island premiere of Disney's Newsies, the Broadway smash musical and rousing tale of Jack Kelly, a charismatic newsboy and leader of a band of teenaged "newsies" based on the 1992 motion picture and Tony Award winning score, inspired by a true story. Theater by the Sea is a historic theater and playhouse in South Kingstown, Rhode Island, on the National Register of Historic Places.
"Saturday Night Fever"

Visit scenic and historic Theater by the Sea on Saturday, August 24 for an 8 pm performance of Saturday Night Fever: The Musical, the stage version of the extraordinarily successful 1977 movie starring John Travolta. Packed with disco classics including the Bee Gees' hits "Stayin' Alive," "How Deep Is Your Love," "Night Fever," "Tragedy" and "More Than A Woman," the musical is filled with explosive energy and sensational choreography. Theater by the Sea is a historic theater and playhouse in South Kingstown, Rhode Island, on the National Register of Historic Places.
"Block Island Escape"

Enjoy the perfect day trip exploring Block Island by land and sea. The 30 minute hi-speed ferry from Point Judith, Narragansett, will shuttle you to Block Island's quintessential island experience with charming boutique-lined harborfront streets, spectacular natural sights and some of the most unspoiled white sand beaches in the country. Hop on a bike or moped and explore dramatic cliffs, scenic ocean views, quiet beaches and pristine nature trails. Then take to the water with two tickets to tour the nation's first off-shore wind farm. Return to Point Judith to cap the experience with with a $100 gift certificate for a sunset dinner at iconic Coast Guard House, named to OpenTable's 100 Most Scenic Restaurants in America 2019 list to go along with its Wine Spectator Excellence Award.

"Billy Elliot The Musical at the Goodspeed Opera House"
Millions of fans... thousands of standing ovations... ten Tony Awards, including Best Musical.... enjoy Billy Elliot The Musical, the spectacular show with the heart, humor and passion to be named TIME Magazine's "Best Musical of the Decade!" Based on the international smash-hit film, and featuring a score by music legend Elton John, Billy Elliot is an astonishing theatrical experience that will stay with you forever. Visit the acclaimed Goodspeed Opera House in East Haddam, CT for a Saturday evening performance of Billy Elliot The Musical. Since 1963, Goodspeed has produced over 250 musicals, including over 70 world premieres, and exported 21 productions to Broadway. Goodspeed stands as the first regional theatre in America to earn two special Tony Awards, one in 1980 for outstanding contributions to the American musical and a second in 1995 for distinguished achievement for a regional theatre.
"Chanler Interlude for Two"
Let the Chanler at Cliff Walk be your point of departure for a special evening for two. Package includes 1-night accommodation in your choice of a manor or estate room based on availability, breakfast for two in The Cafe and dinner for two in Cara.
Restrictions: Subject to availability, certain restrictions apply, excludes alcohol and gratuity, valid Sunday - Thursday only, not valid June, July, August, September or holidays, expires May 31, 2020.
"White Christmas Private Balcony for 10"

Boston's Boch Performing Arts Center in the famed Wang Theatre offers a VIP Dress Circle (Loge) Box, seating 10 family and friends to enjoy the lavish new stage production of Irving Berlin's holiday classic, White Christmas for a matinee at 2:00pm on Saturday December 21st, 2019. The timeless movie adapted for the stage has the New York Times' stamp of "put on your wish list." Set in New England, White Christmas tells the story of a song-and-dance team putting on a show in a magical Vermont inn and falling for a stunning sister act in the process. Full of dancing, laughter and some of the greatest songs ever written! Give everyone the gift they're dreaming of with this merry and bright holiday musical.
"Set Sail"

Take in the beautiful Narragansett Bay with a 3-hour sailboat rental or hone your sailing skill with a mid-week Adult group lesson from Sail Newport, RI's premier sailing center based in Fort Adams State Park, Newport harbor.
"Finger Lakes Frolic"
Enjoy a getaway weekend to the Finger Lakes wine region located in upstate New York and spend the evening at the historic Inn at Taughannock, overlooking Cayuga Lake. Inn at Taughannock will provide you with luxury accommodations for one evening. Spend the day hiking and visit the tallest waterfall on the East coast. Explore Cornell University architecture or visit the Corning Museum of glass. Kayak or take a boat tour of the lake or go wine tasting with over 100 wineries and cideries to choose from in the surrounding area. Complete your day with dinner for two at the Inn's exceptional restaurant with a complimentary bottle of Napa Valley Stags Leap.
"Dinner and a Show"
Don't miss your chance to see Hamilton live at Providence Performing Arts Center - Thursday, August 8. Winner of 11 Tony Awards, including Best Musical. Enjoy dinner at the renown Capriccio with a $250 gift certificate, and be chauffeured by limo from dinner to the show for a truly spectacular evening.
"Distillery Tour"
Explore a Tasting & Tour at Rhode Island Spirits Distillery, the Ocean State's newest distillery! Following your tour, enjoy samples of small and test batches, such as grapefruitcello and botanical gin as you lounge in the tasting room with water views of the Blackstone River in Pawtucket, RI. Bring home your own bottles of Rhodium Gin, Vodka, and Limoncello, organic spirits crafted with botanicals grown and harvested in the Blackstone Valley.
"Culinary Crafts"
For the cook in your life! Learn a new dish with a cooking class at Newport Cooks and complete your table with a beautiful hand-carved, one of a kind bowl by a local artisan.
ART & HOME
"Off Ocean Drive"
Off Ocean Drive by highly sought-after local painter Harley Bartlett will bring a taste of Newport to any space. Framed, this piece measures 17.5 x 23.5".
"Seaside Escape"
Harley Bartlett's seaside escape will add an elegant seaside escape to any room in your home. Framed, this piece measures 18.5 x 22.5".
"Run Down"
14" x 17" framed Oil on canvas board; Oil painting by Nancy Parsons, Newport artist whose work is currently on exhibit in the Newport Art Museum; gilded frame. More at www.nlparsonsart.com
"South Africa"
16"x11" signed, numbered limited edition print of South African beach sunrise by acclaimed South African photographer Onne Van der Wal; matted with burlewood frame;
"Bose Audiophile"
With the motto, Better Sound Through Research, discover the Bose difference when you surround yourself with the latest sound technology from world audio leader Bose, an American corporation and pride of Framingham, Massachusetts. The Bose audio package includes 2 Quietcomfort 35 II wireless headphones, engineered with renowned noise cancellation, with Google Assistant and Amazon Alexa built-in, and enabled with Bose AR, a first-of-its-kind audio augmented reality platform; the Bose Home Speaker 500 promises the widest sound of any smart speaker; and the Bose Soundbar 700, the world's best soundbar to not only hear your movies, music, and TV, but feel the crushing footsteps of a T-Rex on the screen, the roar of the crowd when the underdogs win the game, and the heart-pumping, beat-stomping chorus in your favorite song, and bring out the full power in every moment of your entertainment, with built-in voice control from the Google Assistant and Alexa at the tip of your tongue. At Bose, it's not just about the sound — it's about the experience.
"My Mama's Gardenia and Magnolia"
Paintings by Jennie Huttler.
"Chickens"
Jennie Huttler's charming piece, Chickens, makes for a great addition to any kitchen or farmhouse.
FASHION & ACCESSORIES
"Saltzman's Watches"
This Swiss-made automatic Men's Oris Classic Date Watch features sapphire crystal, a 40-hour power reserve, stainless steel case and bracelet, and 5bar water resistance. Free sizing available at Saltzman's Watches in Newport. Three year Oris warranty with activation.
"Perfect for Polo"
Showcase your polo pride with this gorgeous, silky scarf, complete with decked out horses and bridle motif. A gift certificate to the Sara Campbell boutique on Bellevue Avenue will help you complete your look.

"Hermes Scarf"
Accessorize any outfit with this sumptuous Hermes scarf, featuring stylized leather straps and gold chains and buckles.
"Brahmin Crossbody"
The Lane Crossbody is a versatile design with en vogue multicolored snake skin print & vintage style in this year's resort, spring, summer & fall couture runways; genuine leather. Carry in hand or attach the adjustable strap and wear over the shoulder or as a crossbody. Organizational features keep everything in its place.
"Brahmin's Bold Weekender Collection"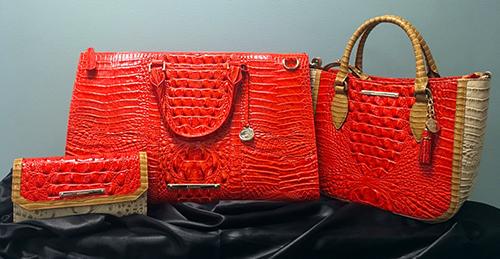 Make your escape in bold style with a matching Brahmin weekender, handbag, and wallet.
"Pretty in Pink"
Complete your summer ensembles with these one of a kind, bright, and playful original pieces by local artisan Torin Richards.
"Amethyst & Swarovski Necklace"
Bold, yet elegant in its simplicity, this amethyst necklace adds just enough sparkle to any outfit and can easily transition between daytime and evening wear.
"Drop in the Ocean"
This hand-blown drop necklace showcases .5 carats of diamonds, adding a unique, ocean-inspired twist to these timeless gems.
"Amazonite Jewelry Set"
This ocean-blue Amazonite necklace, earring, and bracelet set will make any summer outfit look positively polished.
"Vintage Swarovski Necklace"
This one-of-a-kind necklace features vintage Swarovski crystals to seamlessly combine classic elegance with modern design.
FOOD & SPIRITS
"Healthy Cocktail Starter Kit"

Give your cocktails a healthy twist with organic spirits and healthy cold-pressed juices.
"Board's Wine Basket"
Selection of exceptional wines curated by the Newport Music Festival Board of Directors & Friends
Carpineto Vino Nobile Di Montepulciano, 2012
Duckhorn Vineyards Merlot, 2015
Abstract 2017 California Red Blend
Catapult McLaren Vale Shiraz, 2010
Chateau Lilian Ladouys Saint-Estephe, 2010 (2 750ml bottles)
Double Magnums (3L) of celebrated California wines Freakshow Cabernet Sauvignon, Bogle Essential Red, and Phantom Red
"Rum Lover's Dream"
This selection of Bacardi Flavored Rums is the perfect choice for completing your summer in the Sailing Capital of the World. Make delicious Rum Punch or customize your mojitos. This set comes complete with mixers and Newport Music Festival limited edition shot glasses.
"Connaisseur's Choice"
Perfect for the wine connoisseur, this premier bottle of 1986 Grand Vin Chateau Latour is critically-acclaimed for its remarkably "tight" tannins, rich, fruity, spicy flavors, and mint and mineral aromas. Aggregated Critic Score 91/100. Region/Appellation: Pauillac, Country Hierarchy: Medoc, Bordeaux, France. Grape/Blend: Cabernet Sauvignon - Merlot.
"Imperial Zin"
Perfect for entertaining with panache - this 6 Liter bottle of Federal Hill 'ZIF" is renown winemaker Jed Steele's perfection of the wildly popular California Zinfandel grape (whose DNA has been traced to the Italian Primitivo) for an excellent rich and intense style of red wine. Product of the California North Coast Mendocino region. A celebration unto itself, the Imperial, as 6L bordeaux-shaped large format bottles are called, is a rare, limited edition.

"Whites & Roses Collection"
A Whites & Roses summer wine case is sure to please every crowd this season.
SPORTING GOODS & SPORTS MEMORABILIA
"For the Love of Your Horse"
Set of 4 Saddle Pads including a pair of classic imported Argentine wool/cotton woven saddle blankets for polo, plus a pair of Back on Track Therapeutic All Purpose Saddle Pads with state-of-the-art Welltex material utilizing your horse's own body energy to increase blood circulation and keep your horse's back muscles loose and relaxed; breathable and wicks away sweat; for all horses, and recommended for horses with cold or sore backs.
"Bridge to Fitness"
Recharge with this basket from Bridge to Fitness. All designed to help you get back on track, reset with a one-month membership with free group exercise and spin classes, personal training with your choice of trainer, a chiropractic assessment, physical therapy assessment, and trigger point therapy.
We thank all the generous donors for fabulous auction exclusives:
Jessica Hagen Fine Art + Design
Rhode Island Distributing/Mancini Beverage
Schultz Marketing Partnerships