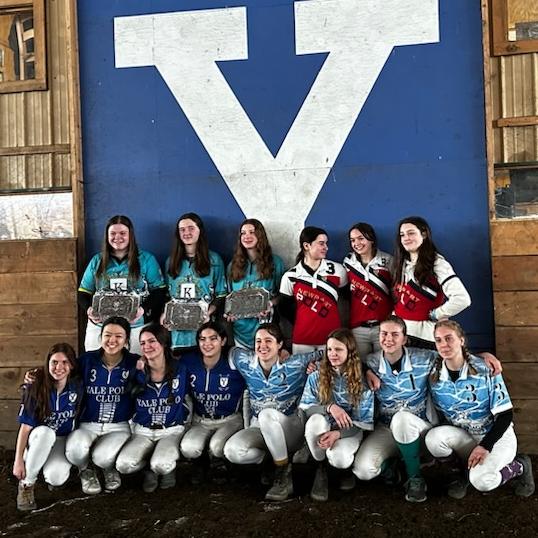 It has been a banner year for the Interscholastic program at Newport Polo. Our teams have been working tirelessly to keep the ponies fit, and their skills honed in order to show up prepared to win and most importantly, have fun. Whether it's hosting a team at the Newport Polo arena, or traveling to another team's facility in the New England area, the Newport Girls Varsity interscholastic team made their mark!
Our Girl's Varsity team boasted a strong record this season, winning qualifying games against teams from Harvard and Kingswood, putting them in contention to capture the Northeastern Girl's Preliminary tournament hosted by the Gardnertown Polo Club in New York early this month. This tournament was a multi-day event, with four qualified teams from the Northeast circuit of polo clubs.
Newport's varsity squad, comprised of Catie Reed, Ava Richard, Ana Dwyer, and Hanalei Streuli faced off against Yale in the first game at the Prelims, and came out with a solid 17-7 win, securing their berth in the finals the next day. On Sunday, they met familiar rivals, Kingswood for a riveting match resulting in Newport winning 14-11. In addition to successful games in the arena, Catie Reed and Ana Dwyer were named tournament All-Stars, and Catie was also given the Horsemanship award. After a long weekend of successful competition, the team earned its berth to advance to Regionals!
After a couple of weeks of practice, the team headed back on the road for the next tournament against the top teams in the Northeast. Regionals were hosted in Connecticut by Yale Polo and included the four teams with the winningest records this season. Challenges at this level include the focus and determination to compete at your personal best, on loaned strings of ponies, in less familiar arenas and hotel stays, preparing these athletes for future success at the intercollegiate level and beyond. Friendships from these games, along with a team dinner at a local Italian eatery, encouraging the camaraderie between players and teams competing, will undoubtedly create lasting sportsmanship.
In the semi-final game, Newport played a tough battle against Yale, falling critically behind in the first chukker, but fought their way back and were the stronger team over the next 3 periods, but the original deficit could not be overcome in the 19-11 loss. Sunday brought a redemptive victory over Kingswood, 16-10, while Ava Richardson was awarded the Sportsmanship award.
The end goal of every interscholastic season is reaching Nationals, held at the Brookshire Polo Club in Brookshire, TX. While the team will not be traveling there this year, they had a successful season and will continue to work towards a national ranking next year! Current players will earn Varsity Letters and graduating players may qualify for Scholarships. We congratulate this year's players and could not be more proud of their achievements.
Newport Polo invites interested new players to join its ranks this year. Its interscholastic program follows the format governed by the United States Polo Association. More information is outlined here.