This Saturday for USA vs. Ireland, the Vendor Village will be bustling with a world-renowned sports artist, a charity memorabilia auction, a designer debut, and fine jewelry favorites. Promenade along Newport Polo's Fifth Avenue for a curated experience, located between the Main Gate and the Pavilion.
Ted Dimond is a renowned sports artist whose innovative style bridges classical portraiture with a unique synthetic layering technique capturing the power and precision of athletes in motion. Some of Ted's original paintings and most popular prints will be available with a portion of proceeds generously dedicated to support the Kia Ora Cosmic Ball beneficiary, the Jeffrey Osborne Foundation. Gala goers will also have the chance at an original work by Ted featuring the polo grounds.
Also supporting the JOF's mission to keep music & arts in Rhode Island schools and help vulnerable RI families, Ocean State Charity Events returns for the second time this season with a collection of rare sports, film, and other memorabilia, auctioned to the highest bidder.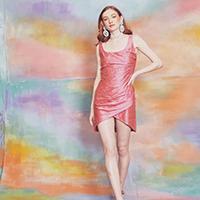 A designer debut straight from New York will arrive to outfit the most discerning fashionistas with resort-inspired couture sure to impress. Lavanya Coodly launched her namesake label in 2014, combining romanticism with timeless designs and a modern aesthetic. Collections for Women, Men, and Couture range from elegant daywear to evening glamour.
Ready with perfectly Newport accessories, Seeside Designs will compliment your new look with equestrian and nautical-inspired fine jewelry. These handcrafted keepsakes offer the timeless elegance of pearls, modernly chic leather, and customizable designs for pieces that are uniquely you.
Newport Polo's pop-up Vendor Village features boutique fashions and accessories, unique exhibits, Cocoa & Co. portrait photography, and the Newport International Polo Series Pro Shop with official team sportswear and souvenirs. Featured vendors change weekly, with new arrivals regularly for a fresh experience each Saturday. For specific details about the players, concessions & amenities for each match, plus venue information and other details, sign up to receive the Game Day Briefing on Saturday, by private subscription (sign up). Stay current with all 2022 season announcements, latest news & event invitations, and more by subscription to our monthly Emagazine (sign up). Both subscriptions are private and spam-free. Heading into the peak of the season, Vendor Village positions are still available, apply online.