Venturing from their own coastal oasis, the team from Wicklow returns after a 2-year pandemic-induced hiatus to defend the perpetual cup they whisked to the emerald isle in 2019. Polo found its Irish home in Dublin in 1873, once reaching a peak of 30 clubs during its pre-war heyday, but still maintains a strong presence with 8 active clubs today. In 1992, the then president of the All Ireland Polo Association received an unusual invitation from the USA to bring a team for the inaugural season of the Newport International Polo Series, an entirely new concept in polo. President Michael Herbst led the contingent himself from the new polo club he was building in Wicklow, and the rest has become the stuff of polo legend. Today, Herbst's daughter, Siobhan carries on the tradition, captaining the Irish team competing on July 9th, and a fan favorite player since 2000.
Fresh from competing in the first Women's World Cup in Argentina, Siobhan Herbst will make her 20th Polo Series appearance, leading her nation's team against USA. Herbst started as an equestrian at a young age, though didn't take up polo until her late teens at her father's behest. She quickly excelled at a time before there was strong support for women in polo. Her career has taken her all over the world, including medal finishes in European championships as the only woman participating. Her home base remains at the Wicklow Polo Club, established by her father Michael, and recognized as a national training center in Ireland.

James Connolly is based in Wicklow, Ireland, and has represented Ireland in Azerbaijan, Zambia, New Zealand, and South Africa. He plays in both Ireland and Sotogrande, Spain, and works in both Hospitality and Property sectors.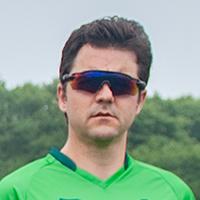 Colm Kelleher is a Polo Series veteran, having represented Ireland in the past five challenges to USA since 2015. The team's record during that time stands strong at three wins, while Kelleher personally scored 10 goals across the matches. Kelleher's parents participated in the famous Irish hunts where he grew up around horses and springboarded into polo. Kelleher is a University of London graduate and by day leads an insurance and financial planning firm in Ireland.
Alister Musgrave was born and raised in Ireland, where he grew up riding, hunting, and eventing before picking up a polo mallet 10 years ago while working in London. Despite living in Hong Kong, Musgrave has been playing in Polo Wicklow whenever he can get back. Musgrave runs a leading insur-tech firm in Hong Kong and prior to that co-founded a fintech platform. Musgrave and his wife recently welcomed their first child.
The craic will be 90 in Newport while the Ireland Polo Team is in town. Players will receive a warm welcome from their lodging host Vanderbilt International Properties at their team headquarters in the heart of the city where they will be able to explore the best of Newport (see Promotional Partners). By luck or by skill, Ireland always provides a thrilling contest against Team USA. Polo match admission tickets are sold in advance online; Lawn Tickets may be purchased at the gate for adult admission to unassigned Lawn Seating, Grandstand, Tailgates* & Chalets* (*requires separate reservation). Celebrity chef and Newport native, Kevin Des Chenes, will match the polo skill on the field with his culinary expertise to serve up a mouthwatering Irish menu during the match or après polo with the players. Make your reservation online only in advance. Of course, don your green, white, and yellow, and deck-out your polo picnic in full Irish regalia for a chance at the Stella Artois Best In Show prize.
Newport Polo is the home of the Westchester Polo Club, America's first polo club, offering exhibition polo and club member services for outdoor & arena polo, and polo instruction. Est. in 1876, founding member of the United States Polo Assoc, host of the Newport International Polo Series.