With 78 days to Opening Day, enthusiasm is at an all-time high for the 31st season of polo competition to get underway at America's First Polo Club. Newport Polo is pleased to announce additional key partnerships representing Fortune 500, international brands, and the most respected names to align in sports/entertainment marketing, as the starting bell nears, poised to bring even more thrills to polo fans throughout the season. The latest entrants are masters of the track in their respective fields, conveying their own special contributions to game day.
"The support of our Sponsors has long brought enhancements to the Polo Series that would not otherwise be sustainable without these partnerships," comments Newport Polo Founder and President Dan Keating. "These industry leaders have channeled their innovations and resources into championing best in class improvements at the polo grounds, enhanced entertainment experiences, and countless rewards for polo fans."
TD Bank, America's Most Convenient Bank, whose roots in the community are more than 150 years deep, is also sparking the innovations that entertain our next generation of polo fans with the Instant Reply Moment on the Jumbotron. Revolutionary to the sport of polo, audiences are able to better understand and appreciate complex plays of the game as it unfolds, watching a replay as the commentator describes the nuances that were captured in multi-camera real time. Many visiting players have remarked how engaged our audience is, hearing their cheers and emotions, which is a testament to these efforts to deliver a premium sporting experience. TD Bank understands the value of customer care, offering the most comprehensive array of products and services for retail, small business, commercial, private banking and wealth management products and services to more than 9.5 million customers from the Northeast to Florida.

Turkish Airlines, the airline that flies to more countries than any other, is opening up a world of possibilities to polo fans. Anticipation will build all season long as the Newport International Polo Series' presenting sponsor once again offers fans a once-in-a-lifetime experience in the Turkish Airlines Grand prize drawing. Entries will be collected throughout the season, reaching a crescendo at the Turkish Airlines Finals on September 24, awarding round-trip airfare anywhere in the world to one winner. The pinnacle of global travel and a premium onboard experience awaits, with unique offerings like gourmet dishes prepared by Flying Chefs aboard Turkey's flag carrier.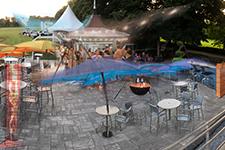 The largest luxury media company in the U.S. is teaming up with the icon of Bermuda to bring a new Polo Series feature set to debut on Opening Day, June 4. Modern Luxury Boston, creators of Boston Common magazine and Boston Interiors magazine, and Goslings are the driving forces behind the new Modern Luxury Lounge for après polo camaraderie and celebration after each match. Join the teams every Saturday at the Patio Bar and Lounge following the Trophy Presentation, for a complimentary encore toast with DJ entertainment, festive ambiance, and tales of the players' polo exploits from around the world.
Enjoy a complimentary Dark 'n Stormy® with platinum awarded Goslings Black Seal to island-hop from Newport to Bermuda. On seven select dates, nationally acclaimed mixologist, The Cocktail Guru, will add his unique flair, offering artisanal cocktails themed for the international guests of honor on June 4, 18, July 9, 23, August 20, September 3 and 17 in 2022. For adults 21 or older. The Patio Bar located at the Pavilion offers premium spirits including Goslings Rum, specialty and frozen cocktails, craft beer, boutique wines, and unique soft drinks during each match with walk-up service to all ticket holders.
Stella Artois certainly knows a thing or two about tradition with 600 years of history brewing and an artfully perfected 3-step pour ritual to unlock peak enjoyment. That same dedication to peak enjoyment and the history of polo has driven the vibrant picnic culture at the Newport International Polo Series. Polo and tailgating have been hand-in-glove since its global spread when horse-drawn coaches served as viewing platforms on the field perimeter to take in the contests. Today, Newport Polo fans have perfected the art of field-side fun with elaborately embellished decor, bountiful picnics, and overflowing good cheer. Stella Artois is toasting these exuberant merrymakers for the 7th consecutive year, offering up a weekly prize to the most jubilant party. Top secret judges will scout the field from picnics on the lawn to Pavilion tablescapes to award the standout bacchanal with a Stella Artois prize package and Brenton Hotel Jumbotron moment of fame. Of course, all match attendees can savor the Life Artois each Saturday with Stella Artois on tap at the Pavilion Patio Bar.
Our partners not only add value to the Saturday polo experience, but they also invest in the quality of life in our state and in our region to support multi-cultural experiences, accessible family entertainment, and fun, responsible, affordable outdoor social engagement reaching across countless demographics. Additional announcements and acknowledgments are still on the horizon as we prepare to load the starting gate. For more information about our Sponsors, visit the Sponsor page.
Subscribe to Newport Polo's Emagazine for updates on all of these special features, contest entries and rules, and new announcements delivered to your inbox - private and spam-free.
"Our sponsors have been with us since the beginning," explains Keating. "These strategic partnerships include global megabrands, Fortune 500 companies, the most respected names in sports/entertainment marketing, and the best of Newport County, helping deliver a world-class polo experience that has wide-ranging community benefit beyond the exhibition matches."
About Newport Polo: Newport Polo is the home of America's First Polo Club, founded in 1876, a charter member of the United States Polo Association. Newport Polo offers year-round polo club member services and polo instruction, and hosts the Newport International Polo Series public exhibition polo matches every June through September, now in its fourth decade. View our 2022 Schedule of Events and our 21st annual charity gala, the Kia Ora Cosmic Ball, Presented by BD.