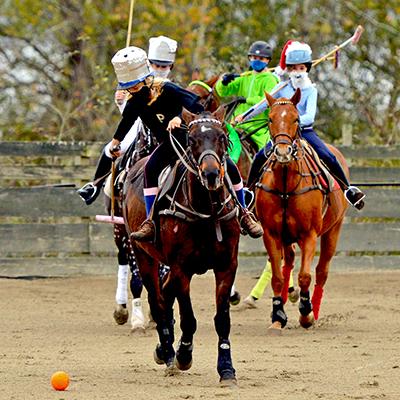 Newport Polo's Varsity and JV Polo Teams have begun the 2020-2021 season, following State of Rhode Island and United States Polo Association (USPA) guidelines for sports activities. The USPA's Interscholastic polo program is a competitive league in which teens play against other polo teams within their region and can advance to national competition. Academically qualified players play on club teams, in the arena under the official USPA Arena Polo rules.
Newport Polo's interscholastic program has decades of history, achieving national ranking and producing players that have received college scholarships & recognitions including All Star, All American and Sportsmanship awards. Newport Polo's interscholastic teams participate in weekly practices, official games against regional rivals, and in USPA Tournaments.
Following regular practices through the summer and into Autumn, Newport's Varsity team hosted its first regional rival, Yale, for a Friday Night Lights home game, and competed away at Yale weeks later. The JV team is routinely practicing in group drills & skills sessions, as well as opportunities for horesemanship and game prep, and played in the annual Halloween Scrimmage injecting creative costumed fun to the Autumn calendar. Teams hope to progress to the annual regional tournaments during the spring semester under an adapted USPA program to meet with health recommendations. Eligible players may apply to USPA varsity letter and scholarship programs.
Despite the unusual conditions of 2020, polo at all levels was among the first sports to safely resume, thanks to the open-air fields and outdoor arenas, small team sizes, ability to wear masks and social distance during play. All participants in Newport Polo activities undergo regular health screenings, engaging with a small, stable group of players to conform to current health recommendations. New students of all ages are accepted for matriculation into regular weekly classes. High School Team eligibility is open to boys and girls in 8th-12th grades in good academic standing. No riding experience is required to set on a proven course of instruction to player. See the Play Polo tab for more details
In 2019, Newport Polo's Varsity Team finished 3rd in USPA Regionals, with individual All-Star and Horsemanship awards going to Newport players. Past milestone achievements include 3rd place finish in USPA Nationals, numerous individual achievement awards, scholarship and varsity letters awarded by the USPA, and continued advancement to play in prestigious tournaments around the world and at home in the Newport International Polo Series.