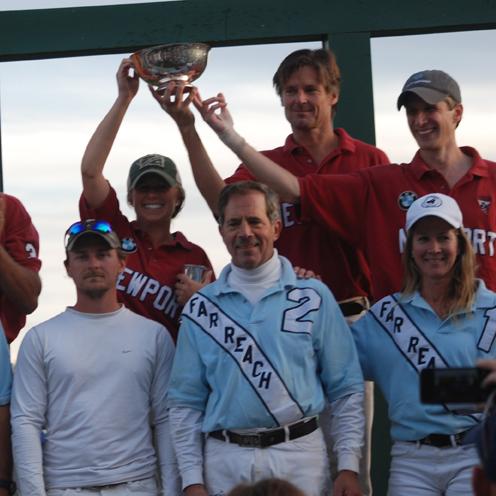 It was a red letter day for Team Newport as the players met regional rival, Far Reach, on the International Polo grounds to claim honor and bragging rights for an end of season victory in the Finals of the NBC-10 Newport International Polo Series, Presented by Your Rhode Island BMW Centers, on September 26, 2015.
Representing Newport were Sam Clemens at #1, the flying Heather Souto at #2, president and team captain Dan Keating at #3, and team doctor, Dr. Dave Bullis at #4. For the challenger, Far Reach, Amy rice played #1, Peter Friedman was at #2, Sam Shore at #3, and Rory Torrey rounded out the team at #4.
Far Reach made the opening gambit with a goal by Torrey. Keating met the challenge, putting Newport on the board, but Torrey deftly converted a penalty 4 hit from the 60 yard line to a goal. Newport upped the ante in the second chukker as Bullis played a straight through the Far Reach goal, followed by Clemens with another winning hand, while Far Reach folded. Bullis held all the card in the third chukker, raising the Newport score by 2, but Torrey played a royal flush with another 60-yard goal sent through the pack. Newport held the lead closing first half 5 – 3 over Far Reach.
The teams were dealt even hands starting the second half as Clemens scored first for Newport, matched by Friedman of Far Reach, and then raised by Rice. Bullis called for Newport, adding a goal to match Rice, ending the fourth chukker. Fortune favored Far Reach in the fifth as Shore raised the score to 7, while Newport gained one goal on a 60 yard penalty conversion by Keating. There was only one degree of separation entering the final chukker, and Shore from Far Reach quickly tied the match, but another penalty conversion by Keating edged Newport ahead. Shore again tied the match with an easily executed penalty 2 from the 30 yard line. The flying Heather Souto won the day with the high hand for Newport, making it a 10 - 9 victory over Far Reach.
During the match, a fan from the homeland of Newport, RI won a pair of shoes from Rockport in the weekly door prize drawing, and Portsmouth tailgaters in space 00 claimed the best tailgate prize from Stella Artois for their autumn at polo celebration, complete with a set of mallets, and pumpkins sporting the Newport Polo logo.
After 6 periods, the match concluded with the Veuve Clicquot Champagne Toast & Trophy Presentation of winners' goblets and esteemed silver cup, presented by NBC-10 evening news anchor, Emily Volz, who also awarded this year's fan voted #1 in the Summer Photo Contest a bottle of Veuve Clicquot and 2016 season pass. A cocktail hour to mingle with the players drifted into an early autumn night by the fire for a bright ending to season XXIV.
Match Video footage can be found on Newport Polo's YouTube channel. Photos can be found on Newport Polo's Facebook fan page.
Video/Photo credits: Matthew J. Atanian, J.Rodrigo Fernandez, Dana Bibeault, Rod Harris, Melissa A. Barker, Alex Barz, Grace Perkins, Ryan Fontaine, Berkeley Combs & Onne van der Wal.
This is the 24th season of the NBC 10 Newport International Polo Series, presented by your Rhode Island BMW Centers, and sponsored by Alex and Ani, Atria Senior Living, Balfour Beatty Communities, Forty 1º North, Hyatt Regency Newport Hotel & Spa, Vanderbilt International Properties, Clarke Cooke House, Rockstar Limo, Veuve Clicquot, McGrath Clambakes, Newport Daily News, Rockport, Stella Artois, Pure Brazilian Coconut Water, Newport J House, Cox Communications, and promotional partners including The Preservation Society of Newport, Bird's Eye View Helicopter Tours, America's Cup Charters, International Tennis Hall of Fame, Island Surf and Sport, The Cocktail Guru, and Discover Newport.
"Our sponsors have been with us since the beginning. Without their support, the Series would not be as extensive as it is," explains Dan Keating, Polo Series founder.

Discover Polo! Watch it, Play it, Support it. Newport Polo hosts the Newport International Polo Series XXIII, and is the home of America's first polo club, est. in 1876, (founding member of the United States Polo Association) offering public exhibition matches, polo club member services for grass & arena polo, and polo instruction year-round. Information about Newport Polo's spectator events, polo lessons, and sponsorship can be found on these web pages, using the links including About Newport Polo.